I'm sitting in front of a computer screen blank, cursor flashing with possibility, my hair damp from the night's shower (that I shared with the dog who got skunked three days ago and needed another dose of something to fight the lingering skunk funk), listening to the chug of the washing machine and the static white noise coming through the baby monitor. Outside, our house's Christmas lights are reflecting off of the wet pavement. And I am trying to find the words to express what my heart so deeply longs for in this season of Advent with young children.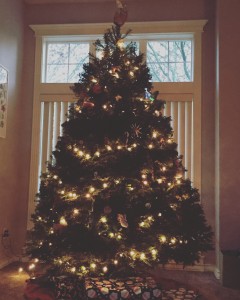 It's slowness. Care. Unhurried appreciation that I want most. More than anything. It's my baby boy's first Christmas and my daughter's fifth. Their first Christmas together. My first Christmas as a mother of two. Why can't the world see that and understand that I am desperate for the opportunity to cherish this? If Advent in its very soul embodies the spirit of expectation then why does the world make it so very hard to move slowly enough to do so? Christmas is a week away. We didn't see Santa this year or ride on the Polar Express train. We haven't baked. I love doing all of those things but they just didn't happen and it's because I didn't force them to happen. Actually, I haven't forced anything. And it has felt so good. Now I am not here to praise myself for finally doing what is best for our family and for our kids, because I have a lot of rushing and forcing in my past that I need to make up for. I'm not even here to tell you to "take it easy" this Christmas because in all honesty you've probably heard that message somewhere. But I will tell you that if you have been looking for an excuse to have a holiday season that is filled with less…you don't need an excuse. You don't. Now my gift to my father-in-law and his sweet wife is simpler and less involved that I had originally planned, and that's bothering the perfectionist in me a great deal. But they don't know how I wanted it to turn out. All they will know tomorrow when I show up at their house is that my children love them, we love them, and we will have a meaningful gift (and wine) to share. My neighbors might not get home baked cookies from me this Christmas, but they also know that I had a baby this year and I somehow doubt that they will be expecting cookies from the lady who only has time to get her mail every three or four days.
All I'm saying is that it is OK to not have a Santa picture to post on social media. It's OK that the ornaments on your tree start halfway up because that's where your one year old can't reach them. It's also OK to take your daughter to the Nutcracker ballet because that is the thing that will make her little ballerina heart sing. And to tell your husband on the day that it is pouring down rain that you still really want to go get a Christmas tree, but that you promise a back massage later.  Traditions are important. They are beautiful. They are cement to a family's foundation and to a child's youth. But you can have just a few of them and still be a good mom. Heck, a fantastic mom. When Mary said "yes" to the angel and "yes" to carrying Emmanuel, it was a simple but profound acceptance and an act of obedience from her heart. She didn't have to do any more or any less than follow God's plan. You and I don't either. Mothering our babies through one of the most beautiful seasons of the year can be a profound but wonderfully simple thing if we let it.
My hope tonight is that however your heart celebrates the holiday that it can embrace a slow and beautiful simplicity. Happy Advent. Merry Christmas. And may your home be filled with glorious expectation.