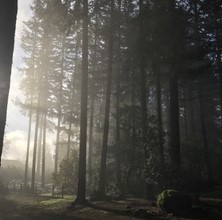 About a month ago I had a Monday that made me want to shake every other Monday and scream "why can't you all be as nice as this Monday?!" I somehow managed to workout, eat clean, tidy and clean the house after a crazy weekend, keep two kids sick with a cold happy, and bake not just one but TWO pot pies for dinner. I posted that evening on social media that I had just kicked that Monday's butt and felt positively amazing about it. You want to know what happened the following day? The torrents of glory raining down on my toned (from the workout) shoulders came to a crashing halt around 4am when my son decided he was awake and not going back to sleep until 6am…and we all know that as adults there is not going back to bed at 6am because we'll just have to get up the second we finally fall back asleep. The floodgates of Heaven were barred and instead Hell broke loose resulting in a Tuesday that felt like the crap storm of five Mondays. And that, my friends, is life.
I wrestle with myself sometimes about the answer to a very big question: is it possible to thrive in life all the time in every season? I'm not talking about joy. I absolutely believe with all of my heart that a deep abiding joy because I belong to my Lord is available and at my fingertips no matter what my circumstance. I have lived that truth and it makes me who I am today. No, I'm talking about an existence that looks like me killing it every day all the time. Waking up energized, eating right, being patient with my kids, reading inspirational and soul-enriching books, walking outside, getting in an amazing workout, building a career that helps others find peace and balance, nailing dinner, and having incredible sex with my husband before falling easily to sleep. There's a lot of talk out there right now that promotes a "manifest greatness" and "go get some girl" lifestyle…and that sounds amazing. I believe that can happen to a lot of us. Some of the time. Wait, but I read this book and it said that if I just….. Nope. I'm sorry. I'm really sorry but do you know what most of those books don't talk about? Kids. And marriage. And compromise, and pets, and the stomach flu, and Grandma getting sick and the basement flooding, and if they do, they forget that often times the tricky situations in life snowball and it can take us days if not weeks to catch up. Take that Tuesday at 4am for example. That wasn't just me losing some sleep. That was my husband losing sleep causing him to take the opportunity to sleep in a little, making his work day get pushed until later, which made our daughter grumpy because Dad wasn't home for dinner. It made our son's nap schedule get way off which meant I didn't get a workout in, which meant I was more uptight and cranky because my "me" time got ruined. It made the colds seem worse, the patience wear thin, and the whole day feel bad. The little hiccups in life, regardless of how resilient we are and how solid our backup plans may be, will always take a little bit of time to recover from. We will miss work and lose vacation days over a child's illness. We will miss out on a trip because a loved one passes away. A teacher will fail to see the brilliance in our child and it will result in a year of broken hearts and misunderstanding. We will work tirelessly at a book only to have the publisher delay it. We cannot thrive every day all the time. We are going to struggle. Most of us right at this moment are struggling. We are. And that fact is so profoundly OK that it shouldn't shock us to acknowledge it, or to hear it on another's tongue.
What I want to know is how. How are you struggling? Are you clinging to God, to the promise of peace, to your loved ones, and to the knowledge that you belong and are loved? Or are you struggling with a frantic look at what everyone else is doing, assuming you are the only one not getting it right? Are you struggling silently at night while your shoulders shake and you pray that your pillow dries by the morning? I pray with you tonight that in your day, in your night, in your darkness and light, that you remember this: You belong. You are not alone. And when you struggle, you can struggle well. Because sometimes, just sometimes, we wake up on Monday morning and show it who's boss.