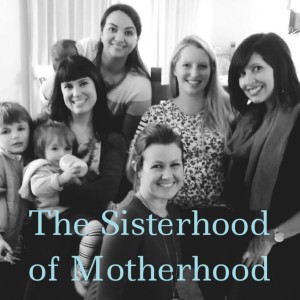 The first time that I realized the healing power behind telling my story was on an afternoon a few months after my daughter was born. I left Joel with pumped milk and a tiny, demanding baby girl and cautiously hopped in the car with two of my girlfriends headed for Papa Hayden's. Somehow over lunch and dessert the story came out. Her birth story. And I cried. At first it felt a tad selfish. There I was suddenly taking over our wonderful conversation with my boohoo story. But guys, I needed to do that. And they were happy to let me. And this is why sisterhood is so important in motherhood.
It is really easy to get home from the hospital or birth center with your baby (or stay at home because you had a home birth, in which case Booya Grandma! Fist bump!) and snuggle in to your micro universe of home and stay there. Or at least that's what feels easy. Because babies eat often and poop often and cry often and staying home and trying to break in the motherhood shoes is much more comfortable in your kitchen than the grocery store…or even a friend's living room. But can I let you in on a secret? At some point you're going to want to, scratch that, NEED to do what might be more work in order to reap incredible emotional benefits.
Until very recently I have shied away from play dates and friend lunches with kids because it always seemed like a lot of work. My four-year old girl has never been all that fabulous at sharing. She's dramatic, exists in a firm bubble and easily gets annoyed by younger kiddos because she made it through four years of life without having a tiny sibling mess up her dollhouse. So play dates always meant having to do some positive discipline magic and deep-breath-taking and three hundred reminders about how to take turns. It felt like too much energy to expend in an already exhausting day. So here's the thing. Sometimes you wake up and look at your grumpy kiddo and say "heck no, I am not taking you into public today for everyone's sanity and well-being". And that's ok! But sometimes a second glance will reveal that it's Mom who needs the attitude check. In that case, I want to lovingly insist that you go. Go to a girlfriend, a sister, your own mom…a fellow female who also woke up exhausted and strained who you can juggle the insane day with until naptime and at least commiserate with as your kids do more naughty things together than they would have done on their own. It's worth it. Every once in a awhile the plants and stars align and it's a blue moon AND your husband or mom or babysitter or some other miracle person is able to watch your kids. And you know what I'm going to say. GO! Run away and actually enjoy conversation. Laugh and be honest and cry if you need to and just please please please understand that you need it.
This can be easier said than done. We don't all have mom friends nearby. If that is your story, then what can you do? Do you have mom friends that live far away but you can have occasional "drink wine and skype" dates with? Do you know someone who you can count on for good text banter throughout the day? Cause I'll tell you what, there is nothing like waking up to a text from a fellow mama friend that reads something along the lines of "it's 7:02am and I've already said the phrase 'no you may not pee on your brother!'" to make you feel a little more normal. And if you're still shaking your head "no" at me then it's time you go cultivate yourself a little plot of sisterhood land! Chat up the moms you see every Sunday in the crying room at church, or the mom who is also wrangling her active 2-year old during storytime at the library. Be bold and ask if they would want to exchange numbers for a play date. We weren't designed to go at this game of life alone.
I will never forget sitting in the bathtub at 1:00pm about 12 days after my daugher was born trying not to cry for the 10th time that day while contemplating giving up on breastfeeding so my hormones could settle down a bit. I didn't yet know that crying and panic attacks were postpartum depression, but I did know that I felt crazy and guilty for being sad when I had a healthy, gorgeous baby girl. And I really didn't want to talk to anyone. But my cell phone sat on the edge of the tub and it started to ring. One of my oldest and dearest friends checking in on me from a whole state southward. (You know who you are, Babe.) I answered. And I cried to her about how horrible I felt and then listened while she told me her own story about crying and feeling anxious and scared and sad after her son was born. That. That right there is what makes this whole motherhood thing just a little more beautiful. Just a little easier to wake up and don with the start of a new day. We need each other, my friends. We need our sisters. And to all of mine, thank you.