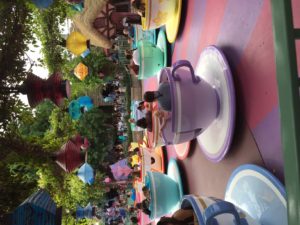 I think we all begin our motherhood journey with an idea of what will define our parenting. At least I did. Either that, or something snatches your attention and your heart along the way and you think to yourself, "yes! I like that!" This absolutely happened for me, and it happened though a beautiful book called Simplicity Parenting by Kim John Payne. When I became a mother I knew that I wanted the kind of childhood for my babies that I had. Lots of outdoor time, family trips to the beach and to Eastern Oregon, siblings to play with, and slow easy summers. And Disneyland! Let us never forget Disneyland. But somewhere along the way I started to read about an old, intentional, slow kind of child-rearing. About not beginning formal education until a child is seven, starting every day with at least an hour of outdoor play time, singing and crafting your way through the day, and fairy tale magic. I got turned on to Waldorf education. And immediately I was mesmerized by the images of these woolen clad, rosy cheeked children playing peacefully with wooden toys and prancing with play silks through meadows. "That!" I thought. "That is how I want my children to grow up". So I bought the play silks. And then when my daughter was old enough I bought white silks so we could dye them ourselves. And I bought her a wooden doll cradle and a little stuffed Waldorf doll and went for the wooden play kitchen instead of the plastic one. We read sweet, gentle stories and picked apples and made jam. And some of that…SOME of that…was absolutely wonderful. We still do a lot of those things. But time and time again I felt like a phony mom trying to live some lifestyle that wasn't really me.  When I was pregnant with our son I started off the baby registry with only the most simply wooden toys, all organic clothing and linens, and none of the extra "stuff". And then I started remembering back four years prior to having my daughter as an infant…and things like pacifiers and musical mobiles and a vibrating bouncy chair snuck their way in. And before I knew it, we were ready for baby boy with a lot of natural, organic, beautiful baby items in his nursery…and some really convenient plastic things too.  And this is how I have tried to parent, with each hand in a seemingly opposing stream of parenting not feeling like I was genuinely anything.
Fast forward to last week. The beginning of my four days long turmoil that ended in an epiphany about 2.5 seconds before I started writing this post. Thursday of last week I was 99% certain that we would be sending our daughter to a local kindergarten through 6th grade Waldorf School. The "day in the kindergarten" experience that we had attended was absolutely wonderful and my daughter had not stopped talking about how excited she was to go to that school. Despite the relatively long drive and private school tuition, the whole thing felt good. Not perfect, but good. And then I had our intake interview. I knew all the questions to expect. What was our daughter's birth like? How is her temperament? Has she been exposed to media? Does she participate in any extracurricular activities? I can tell you that the last two questions are posed with a specific answer in mind. The Waldorf way is specific and intentional and doesn't just involve the child's life at school. This sweet kindergarten teacher wanted me to say "no, our daughter does not watch tv or movies". But I didn't say "no". I answered honestly. Yes, we have parented our children with exposure to tv and movies and the occasional game on a tablet or laptop. We have all been to Disneyland as a family and we don't think that Disney is the equivalent of The Devil. And yes, our 5 year old has taken swim lessons, dance, and gymnastics. She does not live the perfect Waldorf home life, and up until that very moment I had been very comfortable with that. But as I said "yes" to the media question, I watched the woman visibly cringe and I simultaneously felt myself shrink. Yep. You heard that right. I allowed her to shame me. The rest of the interview was rushed and blurred because a certain 1 year old had just about had it with not having Mama's undivided attention, so we scheduled a time for me to come back with fill out paperwork with the admonition that "there is a media free policy at the school as long as she is in attendance". I drove home stewing. I cleaned the house and did my workout and put my babies to bed and did all of my normal stuff….stewing. Here's the thing. If I was convicted that watching a little tv here and there was seriously detrimental to my daughter I would have taken it away already. But that's just not my conviction. It might be yours, and I embrace and applaud that. You might also think that cloth diapering is a complete waste of time, or that Popcicles are going to rot your kids' teeth. (They might…we just brush really well after.) The point is, my husband and I have been very sure to parent based on education and conviction about what is best for our children as individuals. So if we had decided together that our daughter attending this school was absolutely worth some sacrifices, the one thing that I could not sacrifice was my dignity. Because I am a good mom. And nothing is worth me sending my little girl to a school that will be expecting our family to fit a perfect mold so that every time we walk through that gate I have to pretend to be something that I'm not. You and I are all products of our choices and our convictions, but chances are there are too many things that you care deeply enough about to make it all work the way you want it. I'm right there with you. There are a lot of things that I want for my kids that don't get to happen because other priorities are greater. Like this school. I adore Waldorf pedagogy. I think it is beautiful and artistic and brilliantly aligned with childhood development. But I don't agree with all of its other tenants. And more than I love the idea of my kids going to Waldorf school, I love the idea of them going to a fantastic public school where the message will be that everyone belongs and everyone is accepted.
God didn't give my children to a mom who loves to bake. He didn't send their beautiful souls to a seamstress, a mathematician, or to a morning person. He did send them to a woman who is learning to be brave but will fight tooth and nail to make sure that they feel honored and accepted. He sent them to a mom who loves toys more than they do, adores Disney, and despite being an otherwise horrible baker can actually produce a perfect chocolate chip cookie… and then run it off later with joy. When I texted my husband earlier that I had stumbled upon this "ah ha" moment, I simply said "If God wanted the kids to go to Waldorf school and be raised in the way that entails, then He would have sent them to a Waldorf family". His response was absolutely perfect. "Yep, and we're the best parents that we can be. And I'm damn proud of the parents that we are." I am too, My Love.
The shame that I allowed that teacher to put on me is gone. I'm just a normal mom, doing the best I can with the greatest job I'll ever do. So are you. And we're doing a pretty damn good job.