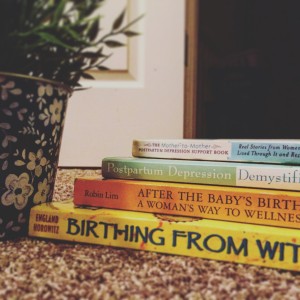 Postpartum anxiety and depression are becoming better known issues but that doesn't mean that knowing where and how to seek help is commonplace.  Four years ago when I sat in a room with the OB on call and stared down at a depression questionnaire that I knew was off the charts I thought my only options were counseling, medication, both, or none.  In fact, those were the only options given to me. So I chose medication and went home to search Amazon on my own for books that might be helpful. And to be honest, I ordered a few but never read them. At least not at the time. My anti-anxiety meds kicked in and I didn't look back. Getting to the heart of my anxiety seemed like a waste of time when I was "feeling better".  I was in fact feeling better, but I was numb. It wasn't until trying to conceive my son that I realized I had to do some work, some examining in order to achieve wholeness again.
So for the past two years I have thrown my spare time into this passion- this heart for helping women navigate the heaviness that can come with birth and postpartum. Loss of self, anxiety, depression, etc. I refuse to let it be an elephant in the room. Acknowledging that you are unhappy, scared, lonely, angry, or all of the above does not diminish the miracle of your pregnancy and baby. It doesn't mean that you're not grateful for your child and over the moon in love. It simply means that you've experienced probably the most intense transition in your life and everything looks and feels different. And you need help.
I'll start with my favorite books that begin with pregnancy and take you through the postpartum period.
Books are wonderful tools for wellness and healing, but it has been the power of story that has had the greatest effect on my recognition of self as a mother. Nothing has touched me more or made me feel more accepting of myself than hearing the words of a fellow mother who has, remarkably, felt like I feel and walked where I have walked. For that reason, the following resources are community and story based and can all be accessed virtually. I think virtual community is a great jumping off point in the case of PPD because you can chose your level of anonymity and go deeper if you wish from there.
The Village Magazine is an online and published magazine that is dedicated to bringing back the "sisterhood in motherhood", which is something that I've mentioned in previous posts as being vital to emotional health in motherhood. The old adage "it takes a village" is real, and these women recognize it. Their website will lead you to various forms of social media, but I particularly love following them on Instagram for the story aspect that it brings. You'll see what I mean. 🙂 thevillagemag.com
Your local LaLeche League is a vast resource! It could be that your anxiety/depression/etc is coming in large part from breastfeeding issue. Seek help and use their fabulous resources! Their local chapter meet-ups are a wonderful way to meet other moms that are walking through life postpartum right along with you. http://www.llli.org/
Birth Without Fear is an incredible community and has been the loudest voice in my recognition that my cesarean birth with my daughter was BIRTH and not just a surgical procedure. They have a blog, a facebook page, Instagram account, etc and the stories are absolutely incredible. Healing, inspiring, beautiful. Enjoy! http://birthwithoutfearblog.com/
Have you found any other resources for mental and spiritual health after birth? If you have, please share!  And never, ever diminish the power of your story. One day it will be the healing balm for another.
Good night, dear ones.