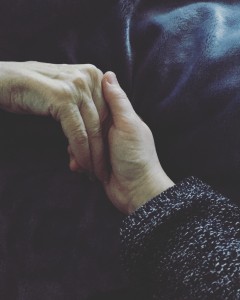 Are you a bottler? I'm a bottler. I stuff and stuff and avoid and minimize and all of the usual psychological jargon that goes along with not wanted to deal with big emotions. Ok, I'm not that bad. I'm a recovering bottler who still gets caught in that trap of "it's easier not to deal with this right now". But lately there are big things- big, heavy, sad things- that I am avoiding. I can talk about it a little and be physically present, but please don't ask me to feel. Not something this raw. Death hurts. Who wants to hurt? So this is where I get caught up. I could allow myself to process slowly and in privacy. I could be the stalwart and put on my therapist hat and let everyone else come to me with their grief while I quietly dust away my own. But do you know who that is doing a giant disservice to? A) Me. B) My husband C) My babies. Yup, now I got you. Cause ain't nobody going to hurt our babies.
My daughter is almost five years old, and if you haven't raised a 4-year old girl before well then just imagine a cross between your emotional teenage self, a Miss America contestant, a horrible stand-up comedian and your annoying aunt who "really can't understand why you got that horrible tattoo". Four is emotional. Four feels alllllll the feels. Deeply, passionately and sometimes all at once. This also makes the 4-year old incredibly sweet and tender. We lost our sweet black lab, Layla to canine cancer a few months ago, and somehow my girl really had it in her head that Layla was going to come back. That is until two weeks ago, where one night at bedtime it hit her. She suddenly had a very big girl understanding of death and its finality, at least in an earthly sense. And the next thing my husband and I knew was that we could hear the sobs from her bedroom all the way downstairs. My husband went up first only to come back down ten minutes later. "She's crying because she misses Layla and she knows that she is never coming back. She wants you." She wanted me. So I trod slowly up the stairs and down the hallway to her room.
"Hi (sob) Mama. Mama (sob) do you know why I'm crying?"
"Why are you crying, Baby?"
"Because I miss Layla….."  And that was it. There was nothing to be said or explained. She just needed to cry and grieve and hurt for her beloved Mama dog who she had loved and who had loved her. So I held her and wiped her hot tears and pushed her damp hair away from her cheeks. And soon my own tears joined hers, as I finally found the space and the trigger that I had needed to grieve my grandma. When I realized the similarity in our sadness I whispered to her, "You know how Layla girl died because she had a tumor in her tummy?" My daughter nodded. "Well Great-Grandma is about to go to Heaven too because she has the exact same kind of cancer. I bet when she gets to Heaven and finds Layla that they are both going to eat all of the amazing food they can because their stomachs won't be hurting from cancer anymore. And then they can keep each other company until you and I join them again." Well that revelation seemed to comfort her as much as it comforted me. I held her close until her cries became sniffles and her sniffles turned in to the deep breaths of sleep.
On Friday morning at 5am my grandma joined our loved ones who have already said goodbye to this world. She joined some of her best friends. She joined her great aunt. She joined my Layla pup. And she left behind my mom. She left behind me and my siblings who were her only grandkids and therefore the recipients of incredible amounts of spoiling love over our lifetimes. She left behind my grandpa with Alzheimer's who shared with her the most beautiful and tender goodbye that I will ever ever witness. My grief comes in waves. It's raw and angry and often gets in the way of simple daily tasks. But for my children's sakes I am doing my best to be present with it. If I am going to tell my daughter that it is alright for her to express her emotions and to cry when she needs to cry and shout when she needs to shout, then I had better be ready to do the same. If I am going to raise my son to be tender and sensitive then I better be sensitive too. And not just with his feelings, but with my own.
You know how when your husband or your sister or your best friend comes to you with baggage you let them air it all out? You encourage them to talk it through, justifying their feelings and listen sympathetically. We deserve to treat ourselves with the same compassion and care. If you're hurting tonight, you're not alone. Give yourself permission to feel. Deep down we all carry a piece of that 4-year old with us. And that's OK. It really is OK.