The weather on February 19th in my neck of the woods was stunning. Cold, clear, crisp, and bright. God-sized handfuls of snow still lingered in the shady places and puffs of pure white clouds broke up the otherwise winter blue.  I settled the car seat shakily into its base, holding my tongue between my teeth until I got it at the precise angle and then "click". My sleeping daughter threw out her fisted hands in a brief startle and then settled back to sleep.  She was 5 days old and we were leaving the hospital. I climbed gingerly into the passenger seat, careful to place my lap belt in a spot that didn't aggravate incision and we were off. The distance between the hospital and our house at the time was short but between my racing thoughts and my husband's never-so-slow driving it felt like an eternity. I was already wresting with my demons and pushing away the creeping symptoms of postpartum depression, but I didn't know that at the time. All I knew is that my life was completely changed…and nothing was how I thought it would be.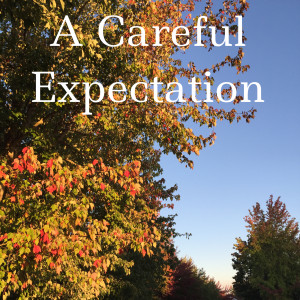 Do you know what comes up when you google "quotes about expectation"? A lot of stuff that people have said or written about heartache and disappointment. Because that is what expectation breeds. And yet that is a massive part of what life is and how we live it. We anticipate. We plan. We schedule and we imagine. We set goals and dream of a hopeful, beautiful future. But there is a giant elephant in the room as we prepare for life, because while we can close our eyes and picture how we expect even the next hour to play out, we also know that the calendar can become figuratively erased by one phone call or a 103 degree fever. At the same time, we can't not plan. That is what pregnancy is! Showers and appointments and nesting are all things that we do as we expect the most remarkable treasure to enter our lives. It's all necessary. Well, most of it is necessary…(says the woman who might be selling the crib that was slept in 5 times and traded for a twin-sized mattress on the floor…). But in the details of that expectation, fear and darkness have a way of taking hold even as we are imagining perfect peace and joy. The most pessimistic of parents don't purchase a crib and bottles and clothing for their expected baby without some imagination of what it will be like. As we accumulate the gear we begin to read and we grab hold of certain ideas that resonate with our souls. "I will breastfeed". "I will bottle feed". "I will deliver my baby naturally at home". "I will stick to my set birth plan so that my epidural is timed perfectly for delivery". "My baby will start sleeping in this beautiful pine crib right around his 6 month birthday". "We will put the kids to bed together every night so that they can both hear the same bedtime story". And so on and so forth. What is wrong with that? Nothing! Absolutely nothing because our dreams are life-giving and powerful. But if those dreams become the plan? The expectation and not just the hope? That is where fear and anxiety find their breeding ground. Because Darkness loves nothing more than to crush our joy with disappointment. And life happens. Changes to the birth plan happen. Reflux and NICU stays happen. Babies who we long to breastfeed cannot, or ones we need to take a bottle so we can go back to work don't. Siblings get sick. Jobs are lost. Pets die. And there is joy and beauty to be found in ALL of it, if we are prepared to let go of our expectations.
I was not prepared to let go. Most often I'm still not. I'm a stubborn, dreamy optimist and if you ask my husband he will tell you that I throw little fits when my plans fail. I'm learning to hide hope in my heart to last through those alterations. To envision a rough sketch, an impressionist painting of how I would like things to turn out with the details left to be filled in by life's creator. You and I are right where we are supposed to be. Our children are right where they are supposed to be. If we can trust that, and lean into that truth as our saving grace, then there isn't any room left for fear.
Will you commit with me to trust more and hold less tightly the vision of a well-planned life? I'd love to hear your thoughts. And as always, love on and love well.